The Democratize Computing Lab (DCL)
Software development is restricted to the digital elite, the .01% of the world who know how to program; most don't even dream of participating in the mysterious world of code. The DCL's mission is to to break down the "programmer divide", and radically broaden and diversify the pool of software creators. Our approach is based on App Inventor, a tool that allows absolute beginners to learn programming by building mobile apps for phones and tablets. App Inventor both heightens motivation (its really fun!) and lowers the barriers to learning, thus providing a welcome introduction to designers, artists, women, people of color, scientists, health professionals, humanities majors, entrepreneurs-- anyone who desires to add software to their creative problem solving arsenal. Our end-goal is two-fold: to empower people to thrive in today's increasingly digital society, and to infuse the software development field with creative, big-picture thinkers.
The DCL is funded by the W.M. Keck Foundation. Led by Professor David Wolber and USF students, the lab develops App Inventor educational materials, runs the appinventor.org site, fosters the K-12 and university teacher community through teacher workshops and other activities, and contributes to the App Inventor tool itself-- we led the development of the recently launched gallery for sharing apps!.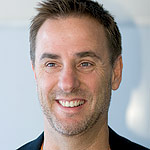 USF Professor David Wolber
Contact David